We take care of your Under Warranty needs
One call (07) 3209 9922 and we take care of the rest
Our service team a highly trained and licenced to work on many types of boiling and chilled water units.
Sure, we look after the major brands such as Billi, ZIP and Rheem, we are now proud to announce that we can cover your water filter service, your repair, your installation and now you are under warranty repair too.
It's simple, you call us and we take care of the rest.
We call the Manufacturer.
We replace the genuine parts.
We let you know when the job is complete.
We charge the Manufacturer.
We always recommend arranging a licenced and experienced specialist to service your equipment, we now offer a wide range of replacement parts simply go to our shop and search the part you need.
What Brands of water units do we service?
We can repair all boiling, chilled, filtered water systems.
Not sure if your boiling and chilled water system are under warranty? Our team can assist you all you have to do is locate the serial no found on the top of the unit and we can help you.
Important information that will assist us with your under warranty repair
Make – eg: Zip or Billi
Model – eg: Zip Hydrotap or Billi Quadra
Serial no – eg: found on the top of the unit
How do I find my Serial Number and Model Number?
To locate your serial number or model number there are a few ways.
Firstly each unit has a unique number usually located on the top of the unit.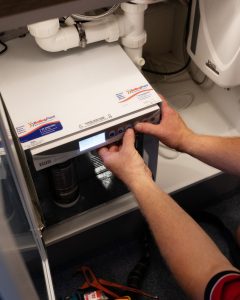 ZIP boiling and chilled drinking water units have a 13 digit number eg: 2020052362123
2020(Year of Manufacture)
05 (Month of Manufacture)
2362123 (Unique Identifier)
ZIP Hydrotaps carry a 3-year manufacturer warranty plus an additional 2-year tank warranty. ZIP on wall boiling water units carries a 2-year warranty. Please refer to our website for the relevant product data sheet and any further information.
Billi drinking water units have a 9 letter and digit identification eg: Q11611234
Q (Year of Manufacture)
11( Month ie Nov)
61 (Make Quadra Compact)
1234 (Unique Identifier)
Billi Quadra units carry a 2 year manufacturer warranty. Please also refer to our website for the product data sheet and any product information.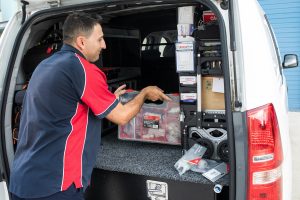 What we will do when we attend your site to look at your water solution
Record the location by GPS tracking
Record important details, serial no, make, model
Service your unit, Health check, update software
Advise you of when your next replacement water filter is due
Give you the best price service on a wide range of genuine and generic water filters and spare parts
Provide you with a quote for any repairs or installations
Unique "Asset sticker" a tamper-proof sticker that will provide the history of your services
Still unsure, give our team a call and they will help you to confirm your warranty information. Simply contact us or lodge a technical support request, we will confirm your details and arrange your booking.